The Year of the Fire Rooster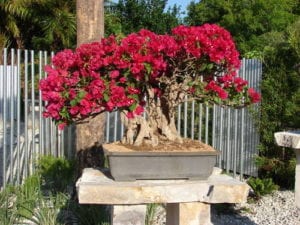 Join us Saturday, March 25 at 5:00 p.m. for Heathcote Botanical Garden's 7th Annual Bonsai Ball
"The Year of the Fire Rooster."
Tickets are $100 per person or $700 per table.

The event begins at 5:00 p.m. with an Asian-themed cocktail reception held in the Bonsai Gallery, followed by dinner, and silent and live auctions. Proceeds from the event support the James J. Smith Bonsai Collection at Heathcote.
Renowned regional artist, Anita Prentice donated Mosaic artwork entitled, "Sunshine from the Garden", in the style of Vincent Van Gogh, valued at $1500. The winning ticket will be drawn that evening. Raffle tickets are also available in the Garden Gift Shop.
This highly valued public collection is the largest assemblage of tropical bonsai in the United States. The Collection was gifted to Heathcote in 2010 by James J. Smith, who passed away June, 2016.
Heathcote celebrates more than thirty years as this community's first not-for-profit horticultural and cultural resource. Our mission is to educate, inspire and serve to empower our community to become better stewards of our natural environment. Staff, donors & volunteers are dedicated to the conservation and preservation of this special urban green space, also known as the Green Heart of the Treasure Coast.
HOW YOU CAN HELP!
Donate an item for the Silent or Live Auction: examples include event tickets, golf foursomes, Gift certificates and Gift Cards for the Prosperity Tree, weekend get-aways are just a few examples.
Support Heathcote with an Ad in the Program Journal. For as little as $50, you can be featured at the event, along with the Journal available on our website through May 2017.
Join as at the Ball. Tickets are $100 per person or $700 per table. There is still time to sign up!
For more information about tickets or sponsorship:
Contact Heathcote Botanical Gardens at 772.464.4672 or by email to info@HeathcoteBotanicalGardens.org