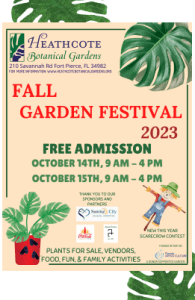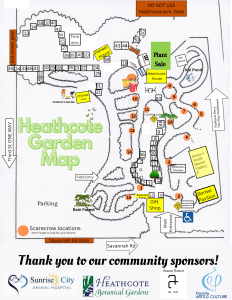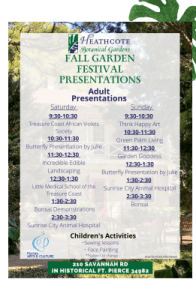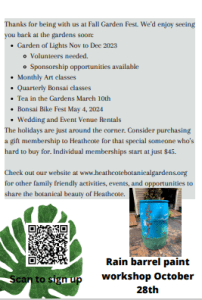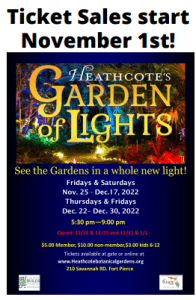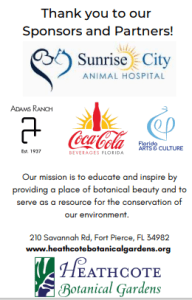 Heathcote's Fall Garden Festival's 36th year! This 2-day event has become a local tradition. We are growing lots of plants in our propagation area that will be available for purchase. In addition, there will be lots of opportunities to learn from one of the many educational and arts activities that will be occurring! Plus, we will have Adams Ranch burgers hot off the grill for you to purchase! Interested in rain barrels for your home and or garden? We will have them onsite for purchase as well as demonstrations on how to set up and install one. Not to mention all the amazing vendors (OVER 50!!!) that will be onsite for you to shop! New this year is our scarecrow contest. It's a weekend you won't want to miss! Mark your calendars to attend! This event is open to the public and admission is free, but we ask for a suggested donation of $1 to help support our non-profit so we may continue to educate and inspire by providing a place of botanical beauty and to serve as a resource for the conservation of our environment.
Scarecrow Contest: Through October 15th
Free with your admission! Come see the wonderful scarecrows on exhibit along our paved path. Scarecrows were created by local businesses and are amazing to see. These larger-than-life scarecrows all incorporate a garden theme in their designs and the creativity is amazing. Voting is done by donation. Each has a QR code that guests may scan and donate a dollar amount of their choosing for their favorite scarecrow. The scarecrow that accumulates the largest donations will be the winner. Cash voting may be done in our gift ship or during our Fall Garden Festival. All proceeds raised help support Heathcote Botanical Gardens. Come participate in the fun! see these fabulous scarecrows and vote for your personal favorite or favorite(s).
Check out all the awesome vendors that will be here:
Amazing Tot LLC
Blue Eye Art LLC
Chantelly's Creations
Cloud Kreationz LLC
Dazzling Jaz Creations
D.R. Bates Liners and Gallons
Digg Garden
Direct Floral
Funky Air Plants
Garden Goddess
Gardens Gone Wire
Glass and Treasure
Green Palm Living
Growing Things
Harmonia Garden
Hearts of the Mystic Folk
Incredible Edible Landscapes
Johns Jungle Handmade Baskets
Katherine's Creations Handcrafted Pottery
Lady D's
Lickety Split Boutique Fairy Hair
Little Medical School of the Treasure Coast
Liquid Gold Raw Honey
Mind & Body EsSCENTials LLC
My O My Bonsai
Native Butterfly Flowers
Ocean Jade Designs
Odom's Orchids Inc
One Blood
Orchids in Bloom
Peter Croton Nursery
Pine Away Baskets
Rooted by Two Sisters, LLC
Simply Handmade by Naomi
Think Happy Art Co.
Treasure Coast African Violet Society
Trendlovers
Woodturners
Uncle Louie G Italian Ice & Ice Cream
Stitches of Love
Sunrise City Animal Hospital