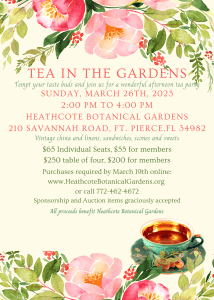 EVENTS CALENDAR
Upcoming Events
Music in the Gardens: Every Wednesday 12 pm – 1 pm
Looking for a wonderful way to decompress. Come by Heathcote Botanical Gardens on Wednesdays between 12-1pm and enjoy Bob Lusk performing meditative  style music. An hour to wander among the Gardens while enjoying the wonderful background ambiance. It is a combination certain to please. Free with admission to garden. Occurs most Wednesdays.
Upcoming Art workshop: Thursday  January 12th 10 am- 12 pm 
Join us for our January Art workshop where participants will paint "Butterflies in the Garden" – Acrylic on canvas under the guidance of Elizabeth Graham and Jeanne Johansen with the Fort Pierce Art Club. You will learn about basic techniques and apply them as you paint a beautiful butterfly on your canvas. This is a beginner level class. Costs are $50 Nonmembers and $40 for Members. There are a limited number of seats at this workshop- so don't miss out! Click here to sign up.
Recurring Events
Bonsai Collection Tour:
3rd Tuesday of each month,
2:00 pm – 4:00 pm
Tour the James J. Smith Bonsai Collection,
meet the curator and hear the history of the collection. *November-May
Bonsai Clinic with the Bonsai Curator:
4th Tuesday of each month,
3:00 pm – 4:00 pm
Sharpen your skills and learn how to care for your Bonsai. Bring your questions and thirst for knowledge.
$ Advance registration necessary: Members $10, $15 for non-members.
A walk in the Garden:
every 3rd Thursday of each month,
11:00 am

Heathcote's Horticulturist Alisia Kifer or docent share highlights of the plant galleries of Heathcote.
Garden Admission (free to members). *November–May.
Want to do art in the Garden?
Call us to arrange time for your group to come and surround yourself with the beauty of the garden to inspire your masterpieces. 772-464-4672 #3
Propagators & Horticulture helpers
Every Wednesday, play in the dirt and help maintain the Gardens for all to enjoy.
Bring your lunch and enjoy sharing your favorite gardening stories
with other nature enthusiasts who make a difference at Heathcote.
Volunteer Coffee – Volunteer Orientation
3rd Wednesday of each month at Heathcote House;

Volunteers sustain Heathcote to help maintain collections, growing plants,
Garden Gift Shop/Admissions & special events. Everyone makes a difference! Come by and learn about all the volunteer opportunities available and make some new friends!
To RSVP, call: 772-464-4672
Garden of Lights Volunteer Opportunities! Sign up to volunteer at [...]
Heathcote's  Art Workshop/ Classes are here under the instruction of [...]
[su_note note_color="#ffd550" style="text-align: center;"]Last Weekend! Garden of Lights Friday, Saturday [...]
The Treasure Coast's most innovative and unique holiday illumination! The [...]
HEATHCOTE EVENTS CALENDAR