The Season, the Reason to Give…
Today is Giving Tuesday and it's the first time that Heathcote Botanical Gardens has participated!
Please join the movement and support Heathcote's efforts to grow as a public cultural resource! Your year-end support will help us restore our Gardens after Hurricane Irma, as well as make vital improvements to our services and help in the restoration of Heathcote House!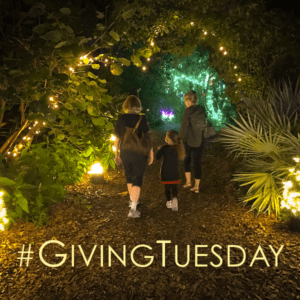 This holiday season, take time to focus on presents that keep giving all year long!
A Garden Gift Membership provides a way to share with loved ones the importance of sustainability and ensures the essence of what the season is all about.
Your generous support of Heathcote Botanical Gardens on #GivingTuesday is a gift that keeps on giving! Whether it's a donation for ongoing program support or a gift membership, your donation helps Heathcote fulfill its mission to provide cultural, educational and recreational activities to visitors of all ages who enjoy our urban green space! We wouldn't be here without you! Your donation is tax deductible to the fullest extent of the law.
These days we take so many aspects of our life for granted. Donating to Heathcote ensures that this local treasure can continue its mission: To educate and inspire by providing a place of botanical beauty and to serve as a resource for the conservation of our environment.
We appreciate your confidence and support of Heathcote so we can ensure that this valued resource is here today and for future generations to enjoy!
[su_table]
[su_button url="https://heathcotebotanicalgardens.org/product-category/giving-tuesday/" style="flat" background="#ec8a00″ center="yes" icon="icon: heart" desc="DONATIONS" title="DONATIONS" id="DONATE"]

Donation Options

[/su_button]

[su_button url="https://heathcotebotanicalgardens.org/product-category/membership/" style="flat" background="#ec8a00″ center="yes" icon="icon: heart" desc="MEMBERSHIPS" title="MEMBERSHIPS" id="MEMBERSHIP"]

Membership Options

[/su_button]